5 Reasons You Need to Stop Stressing About Campus Management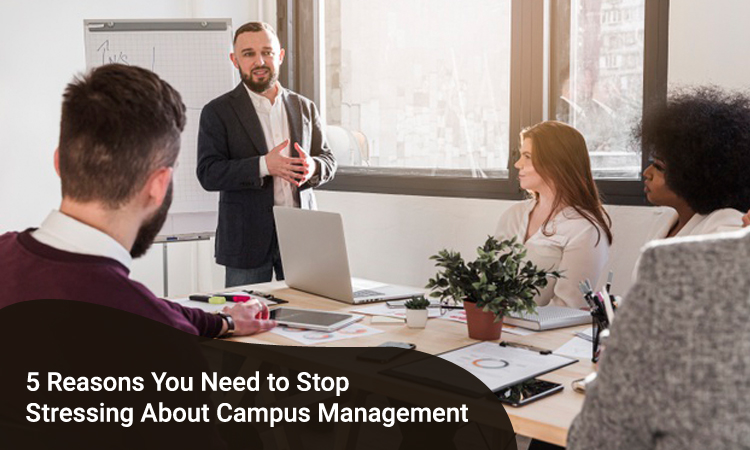 When our institution was in the process of getting accreditation, one of the basic yet scariest questions that we came across was -- "So, what 'new' have you done in the last five years to improve your students performance?"
One-by-one we told them about our achievements & how we introduced edTech in the classroom to maximize final learning outcomes & skill development in students. We had a vast range of data in our campus automation software that would support our statements.
This was our second attempt for accreditation. Our ultimate aim, like other educators, was & is to provide the highest quality of education. However, prior to that incident, we hardly had an inkling of an idea regarding how to manage, compile, and store campus data without any errors.
We struggled a lot more than you could imagine right now just to find the line between reality and expectations.
However, we want none of these you to struggle & stress over campus management. Therefore, here, we're going to explain to you what needs to be done "exactly" for managing campus with the help of educational ERP solutions. More than just student data management, you'll be able to connect the dots between teachers & students that would foster better communication and collaboration. If things go well, you might just be round the corner to get accredited!
Let me tell you 5 reasons why you need to stop stressing about campus management once you implement an educational ERP solution..."
1. Simplifying, Streamlining, and Automating Institutional Work
Okay, probably you have heard this zillion times before! But, it is crucial to mention that any ERP solution can simplify, streamline, and automate institutional work including teaching process and administrative tasks. However, you won't get the same efficiency with every campus automation solution. The ultimate crux is to find educational ERP software with best benefits. It should maximize productivity without being a "tough to understand tech-gadget". Make sure it is user-friendly & rest it will take care of everything.
2. Online Admission System
At present, Covid-19 is the first thing that strikes the mind of stakeholders. Even when it ends, the uncertainty of getting hit by such unknown viruses & other sources would be there. No one knows what tomorrow might bring. So, it's best to stay prepared for everything in advance. Campus management software with an online admission system can be the silver lining on the dark clouds. Educators must integrate an online admission system with ERP software and higher efficiency & ease-of-operation will follow.
3. Teachers-Students Can Keep in Touch 24*7
Oh! That doesn't mean teachers need to work 24*7!
The thing is - student-teacher communication amidst technological development is far from being superlative. Students still find it tough to approach teachers whenever they face challenges. Reasons are many - Some students feel shy to speak in public, sometimes, teachers don't have spare time due to multiple activities that go on during the lecture like marking attendance, teaching, and assigning daily homework. An effective communication platform can turn the tables effortlessly by facilitating a personalized communication platform.
4. E-learning & Online Assessments Tests
E-learning has created a great hype, but is it worth it?
It is 100% worth it!
Here's how-
a) Students get the flexibility to learn from anywhere
b) Curriculum can be designed to promote skill development
c) Valuable e-content & notes can be shared online
d) Tracking students closely with zero chances of error!
e) Students can be paid much greater attention
f) Boosting student performance with online assessments
The umbrella of e-learning is big enough to accommodate all the mentioned checkpoints Students and teachers just need better internet connectivity to explore the undiscovered territory of teaching-learning.
5. Data Security at its Best!
How can one miss student data security? It is the most important aspect that any campus management software could provide to the educators. Managing institutional data is great but compromising with data security is as good as buying a vehicle without brakes! Everything would squeeze down to zero if data security doesn't meet the expectations. Therefore, invest in an ERP system that assures a strong student data security. It would balance out everything & maintain tech equilibrium in your institution.
If every step is managed smartly, you might also get eligible for getting accredited within the first five years of implementing the campus management solution!
I know you might be having queries. Feel free to get in touch!